Symposium to highlight challenges and innovations in endothelial keratoplast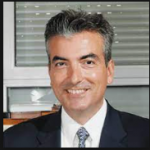 Ophthalmologists and corneal specialists interested in learning more about the latest research and developments in the field of endothelial keratoplasty are sure to derive a wealth of valuable information from the special symposium organised on 25 June 2022 as part of the 13th EuCornea Congress in Athens, Greece.
Moderated by three renowned experts in the field of corneal transplantation – A. John Kanellopoulos, Harminder Dua and José Guell – the symposium will provide delegates with a timely overview and in-depth discussion of a technique which has revolutionized the field of corneal transplantation over the past decade,
Although the final speaker line-up for the symposium is still being refined, moderator A. John Kanellopoulos promises a high-quality, dynamic session which will highlight the benefits and challenges of endothelial keratoplasty (EK) as the first-line surgical treatment of corneal endothelial dysfunction over the past decade.
"It will be a great pleasure and honour to co-host this event with some of best experts in our speciality in Harminder Dua and José Guell. We certainly hope that our colleagues will realize that EK has become the standard of care for corneal transplantation as it now accounts for the majority of cases performed and brings to corneal transplantation unparalleled advantages such as rapid visual recovery, minimal tectonic intervention to the human eye and very good long-term results," he said.
Dr Kanellopoulos, Director of Laservision Eye Institute, Athens, and Clinical Professor, Department of Ophthalmology at New York University School of Medicine, New York, said that EK has lowered the threshold for treatment by providing rapid visual rehabilitation and setting a high standard for safety and efficacy.
"It is clearly evident that both Descemet's membrane endothelial keratoplasty (DMEK) and n Descemet's stripping automated endothelial keratoplasty (DSAEK) appear to be superior in the long term to penetrating keratoplasty (PK) in terms of donor endothelial cell survival and graft survival. These techniques also carry the significant advantage of a significantly more rapid visual rehabilitation, as minimal suturing is performed and there is minimal tectonic intervention to the globe. So it is not a coincidence that EK now accounts for the majority of corneal transplantation procedures worldwide," he said.
Despite its increased popularity, challenges remain for EK to become truly pervasive. The surgery is technically more challenging than penetrating keratoplasty and the availability of donor tissue remains a barrier to uptake in certain parts of the world.
"It's evident that not every surgeon is able to have access to donor corneas, which is unfortunate when one compares the situation from country to country. I think that both deeper investigation and implementation of protocols that will increase the availability of donor tissue in all countries of the world would certainly help. There is also exciting potential in the use of synthetic corneas in the future to making donor tissue available to each patient that needs it," he said.
One of the key drivers behind the initial development of EK was the desire to optimize visual acuity. Going forward, visual outcomes will continue to improve as technology and surgical techniques evolve, said Dr Kanellopoulos.
"We have already seen that EK is relatively superior to PK in terms of refractive predictability and DMEK delivers better outcomes than DSAEK. Standardization of the DSAEK grafts for those surgeons who have not crossed over to DMEK helps to create a predictable refractive
expectation. Surgeons can then appropriately adjust to the refractive target if the DSAEK procedure is combined with a cataract procedure, or even post-DSAEK to perform a laser or lens-based refractive procedure to not only achieve an eye that can see well, but also with minimal correction," he said.
Summing up, Dr Kanellopoulos said that the symposium will provide a perfect opportunity to discuss and debate all the key issues relating to EK against the wonderful backdrop of Athens.
"I think that it's time that all ophthalmologists and ophthalmic professionals alike come together to promote the clear, peer-reviewed advantages that EK proposes as we strive for the best visual rehabilitation and longevity of our procedures for patients. I sincerely hope that our symposium will reiterate and underline these points and I invite all interested colleagues to join us in Athens this June," he said.
Saturday 25th June, 16.30 – 18.00
Moderators: Harminder Dua UK, Jose Guell SPAIN, A. John Kanellopoulos GREECE
Cristina Bovone ITALY
Latest long term visual and clinical results with ultrathin DSAEK
Amar Agarwal INDIA
PDEK. Technique and outcomes
Claus Cursiefen GERMANY
DMEK tissue preparation and transplantation. Special indications
Friedrich Kruse GERMANY
DSO (Descemet Stripping only): International prospective results
Shigeru Kinoshita JAPAN
Biology and future of endothelial cell transplantation