EuCornea Medal Lecture to highlight benefit of early DALK in acanthamoeba keratitis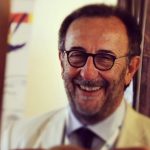 The benefits of performing early deep anterior lamellar keratoplasty (DALK) in cases of acanthamoeba keratitis refractory to medical therapy with substantial optical zone ulceration will be highlighted in this year's EuCornea Medal Lecture to be given by Vincenzo Sarnicola MD.
"Early DALK surgery can be considered in cases where there is the presence of significant ulcer in the optical zone and the eye is unresponsive to medical treatment. We have a window of opportunity to treat these patients with early DALK and save them from the consequences of a potentially sight-threating infection," said Dr Sarnicola, Director of the Clinica degli Occhi Sarnicola in Grosseto, Italy and Professor of Ophthalmology at the University of Siena.
Although it is one of the less common forms of infectious keratitis, acanthamoeba is also one of the most dangerous ocular infections, frequently leading to vision loss or total blindness without prompt treatment. The mainstay of treatment is usually various combinations of antibiotic, antiviral, antifungal, and antiparasitic drugs, followed by therapeutic penetrating keratoplasty (PK) if the infection is unresponsive to medical treatment. However, post-operative complications are common after PK, with high graft failure rates and frequent recurrence of acanthamoeba infection.
It was these poor outcomes with PK which prompted Dr Sarnicola to consider an alternative approach to these difficult cases, drawing on his extensive experience with DALK.
"The acanthamoeba infection usually affects the optical zone with ulcers between 150 and 300 microns as measured by optical coherence tomography (OCT). The significant ulcer means that the patient will probably need a corneal transplant anyway after one or two years. For these cases, where we have a confirmed acanthamoeba infection, with lesions greater than 150 microns in the optical zone and where we do not see a prompt response to local therapy, we believe that early DALK represents a better surgical option than PK," he said.
Since DALK involves selective transplantation of the corneal stroma, leaving the native Descemet membrane and endothelium in place, it significantly reduces the rate of rejection and graft failure compared to PK, explained Dr Sarnicola.
"In severe infection the survival rate of a PK graft is probably less than 50% whereas with early DALK, the survival is more than 90% and the complication rate is very low. We have now successfully treated close to 50 patients with this approach, with 4 to 5 years follow-up for some of them, and have seen no recurrence of the infection over that period," he said.
The early DALK approach has also been successfully employed by Dr Sarnicola to treat cases of fungal keratitis refractory to medical therapy.
For the surgery, the recipient corneas were trephined 400-mm deep and then a knife was used to debulk the cornea as deeply as possible in an attempt to remove the focus of the infection. All the surgical instruments, surgical cart, and surgeon's gloves and gown were then changed. After disinfection of the recipient bed with topical propamidine and povidone iodine 5%, a cannula big bubble technique was then used to try and perform Descemetic DALK. When the big bubble failed, layer-by-layer manual dissection was used instead.
The surgery is technically quite challenging and should not be attempted without previous experience with DALK, said Dr Sarnicola.
"It is very important that it is performed by an experienced surgeon who is comfortable with DALK. If you have a surgeon that has a 20% conversion rate to PK, that is not good because we want DALK in
these patients. With PK, there is a real risk that the surgery will facilitate the entrance of the acanthamoeba inside in the eye, so we to avoid this scenario. It's definitely challenging surgery, but the rewards are great in terms of the outcomes for patients, " he concluded.